Lightweight - Head Heavy Attacking Design
Deal expires on
04/15/2021
Yonex Voltric Ace (VTACE) is a lightweight head heavy badminton racket excellent for offensive player. The Voltric Lite badminton racket uses Yonex's Tri-Voltage technology to help the racket to be more powerful and, yet, maneuverable.
3 Grips in 1 Package
White, Orange, & Black
Deal expires on
04/30/2021
Features a lightweight, non slip surface with excellent moisture reduction for enhanced control and feel. 3 Pack Blister. Each Blister contains 1 orange, 1 black and 1 white grip.
One piece design for stability
Titanium fused joint for more durability
Quad head shape provides a larger sweet spot
Deal expires on
04/30/2021
Wilson Titanium Smash badminton racket is made of durable light steel alloy for a strong and durable racket that is excellent for recreational and physical education class in high school, college, or community center.
Professional Doubles Racket
Fast Control Swing

Deal expires on
04/30/2021
Li-Ning Storm N77 badminton racket is a headlight racket designed for fast attack and defense similar to the classic Yonex NanoSpeed 9900. Used by the World Champion and Olympic Gold Medalist, the Li-Ning Storm N77 badminton racket is an excellent racket for doubles game where speed, control, and fast reaction is essential.
Designed for Playing Outdoor Badminton (AirBadminton)

Deal expires on
04/30/2021
AirShuttle is the new shuttlecock optimized for the outdoor badminton game, AirBadminton.
Staffs' Recommended for
Strong Aggressive Power Player.
Excellent Feel. Made in Japan.
Deal expires on
04/30/2021
The Voltric 55 (VT55-3UG4) white badminton racket is design using super slim shaft and an advancement using the tungsten tri-voltage concept to provide better control on exceptional power from a head-heavy balanced racket.
Club practice feather shuttlecocks
Super LOW Price (Compare Amazon Price $25/doz)

Deal expires on
04/30/2021
New packaging for 2015, Wilson has fixed and improved the quality of its lower grade shuttlecocks making them more durable. The new Wilson Team 60 feather shuttlecock is similar to Aerosensa 10 and features good durability, excellent feathers and smooth flight.
Lightweight Balance Racket
with Excellent Control
includes Full Cover

Deal expires on
04/30/2021
Yonex ArcSaber Delta (AS-Delta) is the recent model released by Yonex within the ArcSaber series. The Yonex ArcSaber Delta is an even balanced racket with a medium stiff shaft offering fast swing speed and an all-around type of play with good control. The racket comes with a full cover.
Convenient, Comfort,
Durable, & Cool Looking.
(Can be used as backpack)
Deal expires on
04/30/2021
The Yonex 7526EX Red Badminton Tennis bag can carry up to 9 badminton OR 6 tennis rackets and a pair of shoes. There are additional pockets for keys and other accessories. The bag can also be carried as backpack.
Limited Qty Available.
Design to help dominate your opponent.
Deal expires on
04/30/2021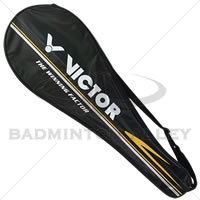 The enhanced level of anti-torsion in the shaft of the VICTOR HX-900X ensures the most energy converted, which creates a total ease in hitting with HX-900X and allows athletes to inject more feel to their shots. The head of HX-900X brings together some of VICTORs most well-received materials with a modern twist, providing enough mass behind the shot but retaining the agility. On every corner of the court, the HX-900X empowers players with comfortable, sweet handling, which gives the opponents constant pressure since they simply cannot find any weakness.
LIMITED QTY AVAILABLE
Used by Anders Antonsen of Denmark
Winner of Indonesian Open
Winner of World Tour Finals 2020
Designed for Aggressive Play & Rapid-Fire Rallies
Deal expires on
04/30/2021
The new Victor AuraSpeed 90K (ARS-90K) has advantages from both Speed and Attack. Designed with the latest frame and shaft technologies to improve speed and power, the AuraSpeed 90K is the choice for many top players in the world such as Andres Antonsen, #4 World Men Singles Player.
Reach Us
Tel: 1-888-586-7762
Tel: 408-746-0646
Fax: 408-746-0636
Email: info@badmintonalley.com
Visit Us
1237 South Mary Ave
Sunnyvale, CA 94087
Mon - Sat: 11AM - 4PM
Sun: 1PM - 4PM